Clement Pierre Denomme
Clement Pierre Denomme was born on October 31 1917 in Verner Ontario. He was the 10th child of 12 to be born of
Pierre Elezear Denomme and Maria Parmelia Christine St.Amour.
Clement married Leonie Cordilia Ducharme on August 27 1941 in Parry Sound Ontario.
Clement served in World War Two as part of the Medical Core. The Images Below are of his Core photograph and of his
discharge paper after the war.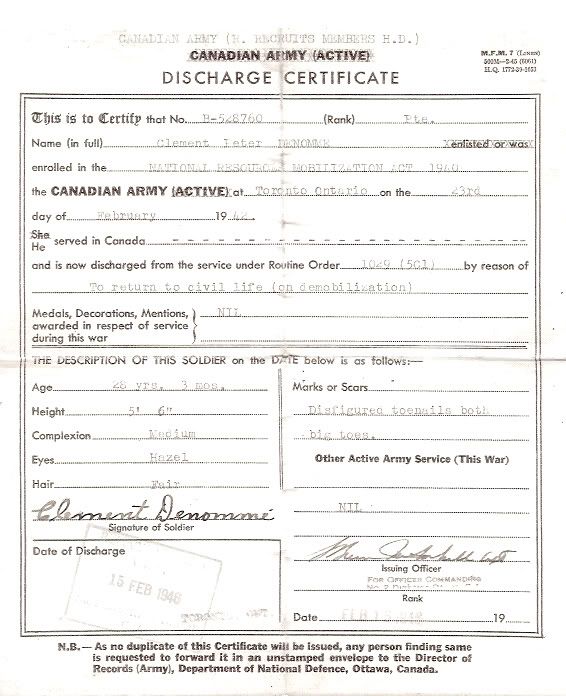 After the war Clement moved to Windsor Ontario with his wife, daughter Pauline and son Laurent.
Clement worked in the states for a brief time and afterwards worked at Ford Motor Company until he retired.
Clement died on February 25 2003 in Windsor Ontario and was buried February 28 2003 at Heavenly Rest
Cemetery in Windsor Ontario.

Links
Leonie Ducharme
Laurent Maurice Denomme
Pierre Elzear Denomme
Marie Parmelia St.Amour
Home
~~~~~~~~
Information on Celment Denomme provided by Canadian military record and birth, marriage and death certificates as well as
death notices provided by the government of Canada.